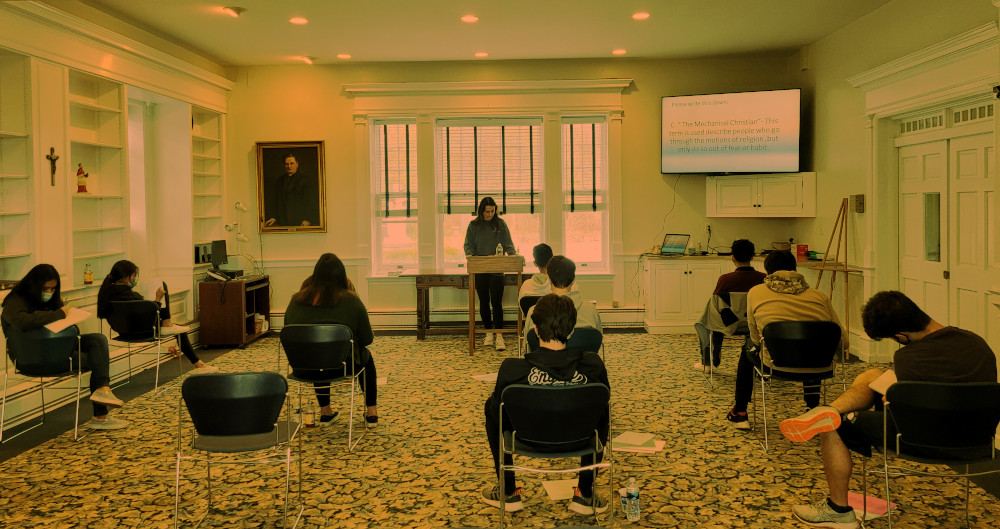 Coming Up!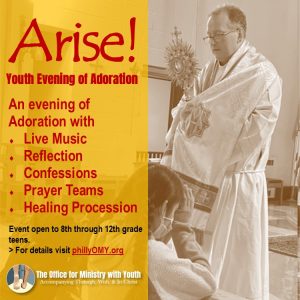 Sunday, January 29, 2023 (Chester County) at St. Peter's Church at 2835 Manor Road West Brandywine Coatesville *Led by the MY County Community of Chester County *Registrations are not required.
A retreat for leaders of Young Adult Groups and Ministers with Youth (including parish volunteers, core team members, DRE/CRE, HS campus ministers, CYO coaches, and Scout leaders) by the Office for Ministry with Youth and the Office for Ministry with Young Adults of the Archdiocese of Philadelphia. Why come to the OMY/OMYA Ministers and Leaders […]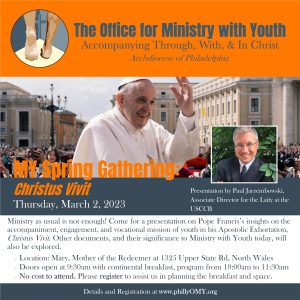 Christus Vivit is Pope Francis' Landmark Exhortation on Youth and Young Adults! All Ministry with Youth is meant to be informed by the wisdom of the Church captured in the words of Pope Francis in his Post-Synodal Apostolic Exhortation, Christus Vivit. In it, Pope Francis shares his insights on the accompaniment, engagement, and vocational mission […]
OMY July 2022 to June 2023 Events Calendar
CLICK HERE to download the OMY 2022-2023 calendar. Do note there are two pages.
*Make sure to connect through our monthly email, social media, and calendar below for the latest updates to our events.