Arise! Youth Evening of Adoration
Montgomery County
Sunday, October 22, 2023, at Mary Mother of the Redeemer at 1325 Upper State Rd, North Wales, PA
*Led by the MY County Community of Montgomery County
Doors open at 5:40 pm
The program begins at 6:00 pm with music and reflection and concludes at 8:00 pm with a social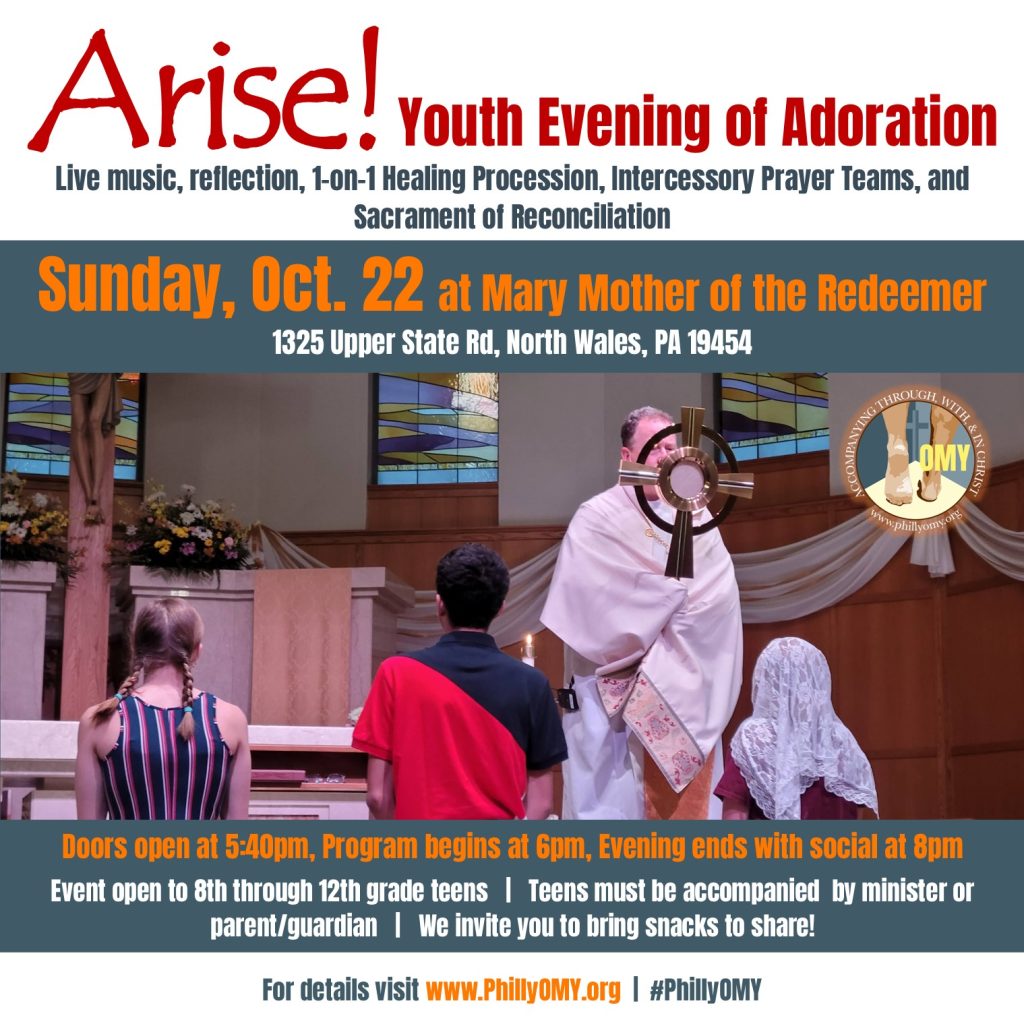 Bucks County
Sunday, December 10, 2023, at St. Andrew at 81 Swamp Rd, Newtown, PA 18940
*Led by the MY County Community of Bucks County
The evening program starts at 6:00 pm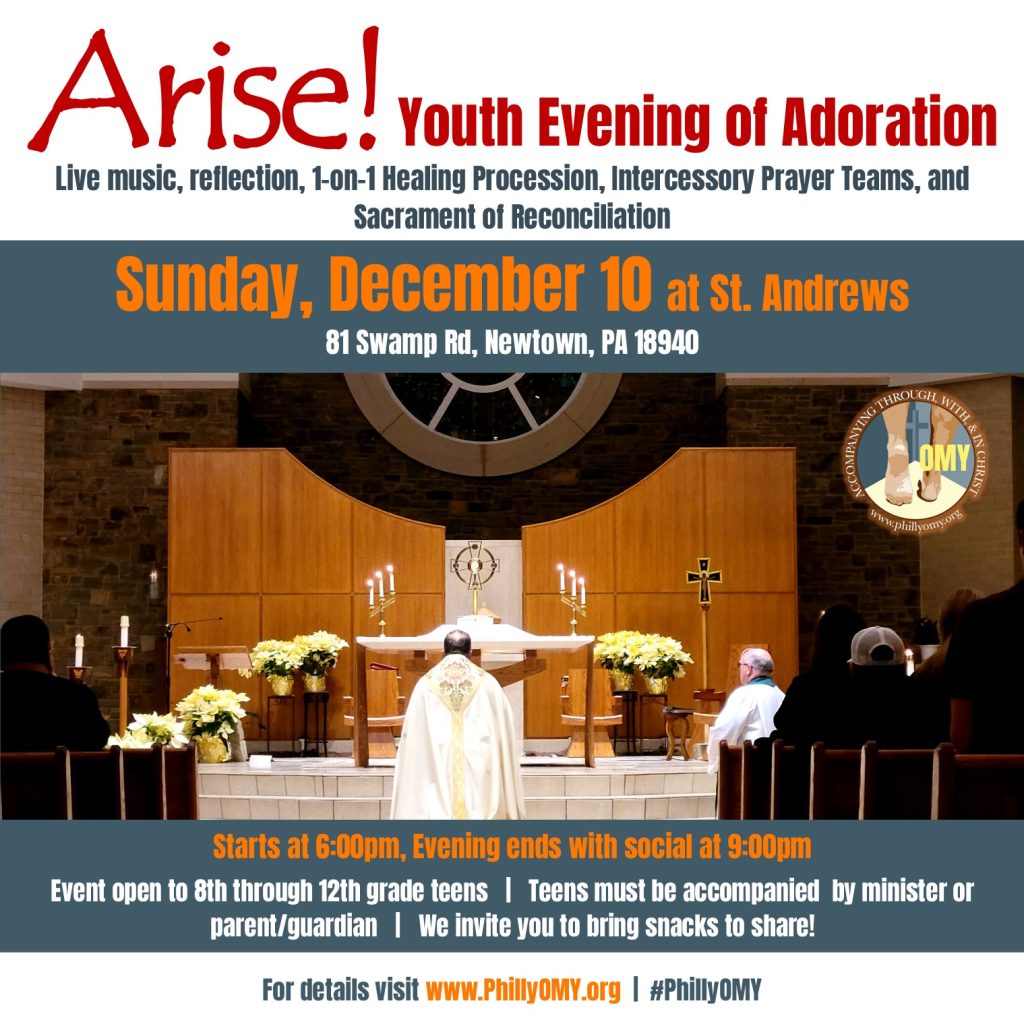 Montgomery County
Sunday, January 21, 2023, at Epiphany of our Lord at 3050 Walton Rd, Plymouth Meeting, PA 19462
*Led by the MY County Community of Montgomery County
An evening program, Time TBD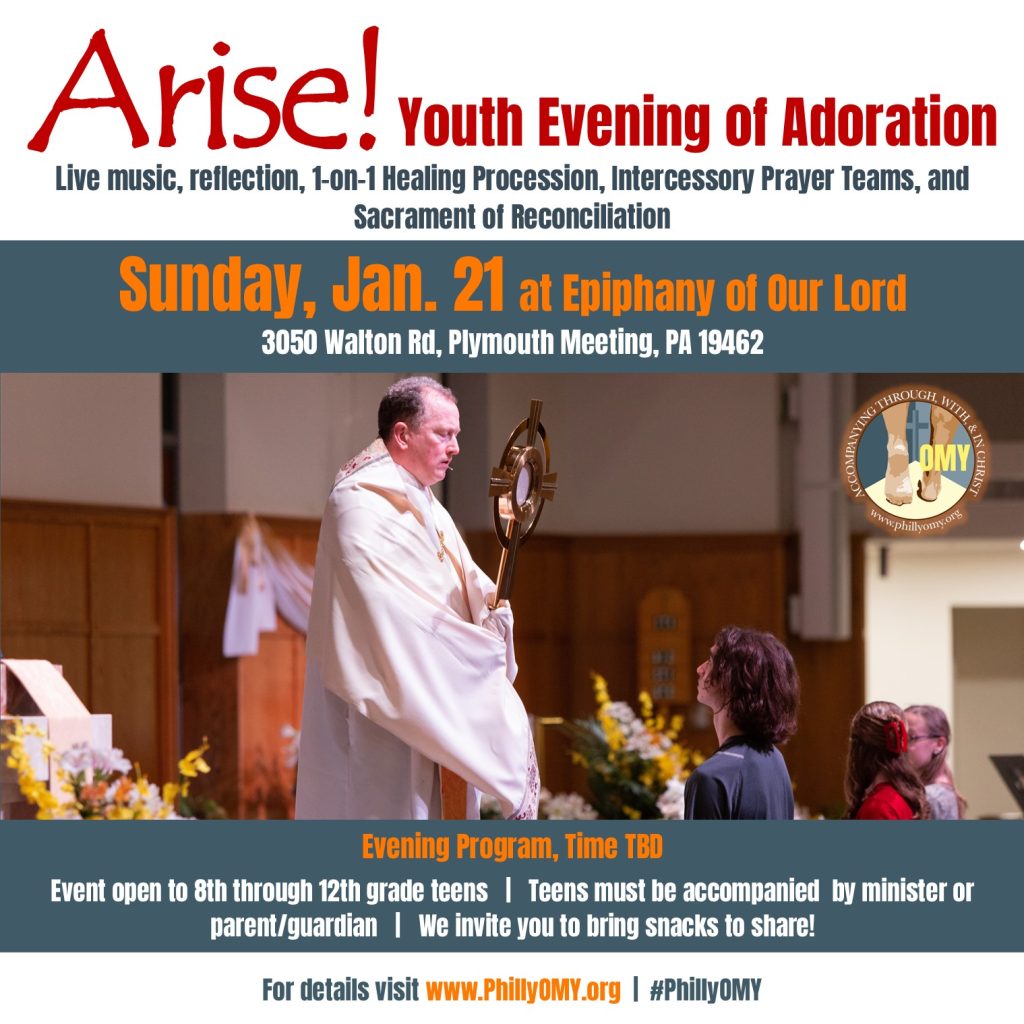 Bucks County
Sunday, February 11, 2024, at St. Bede the Venerable at 1071 Holland Rd, Southampton, PA 18966
*Led by the MY County Community of Bucks County
The evening program begins at 6:00 pm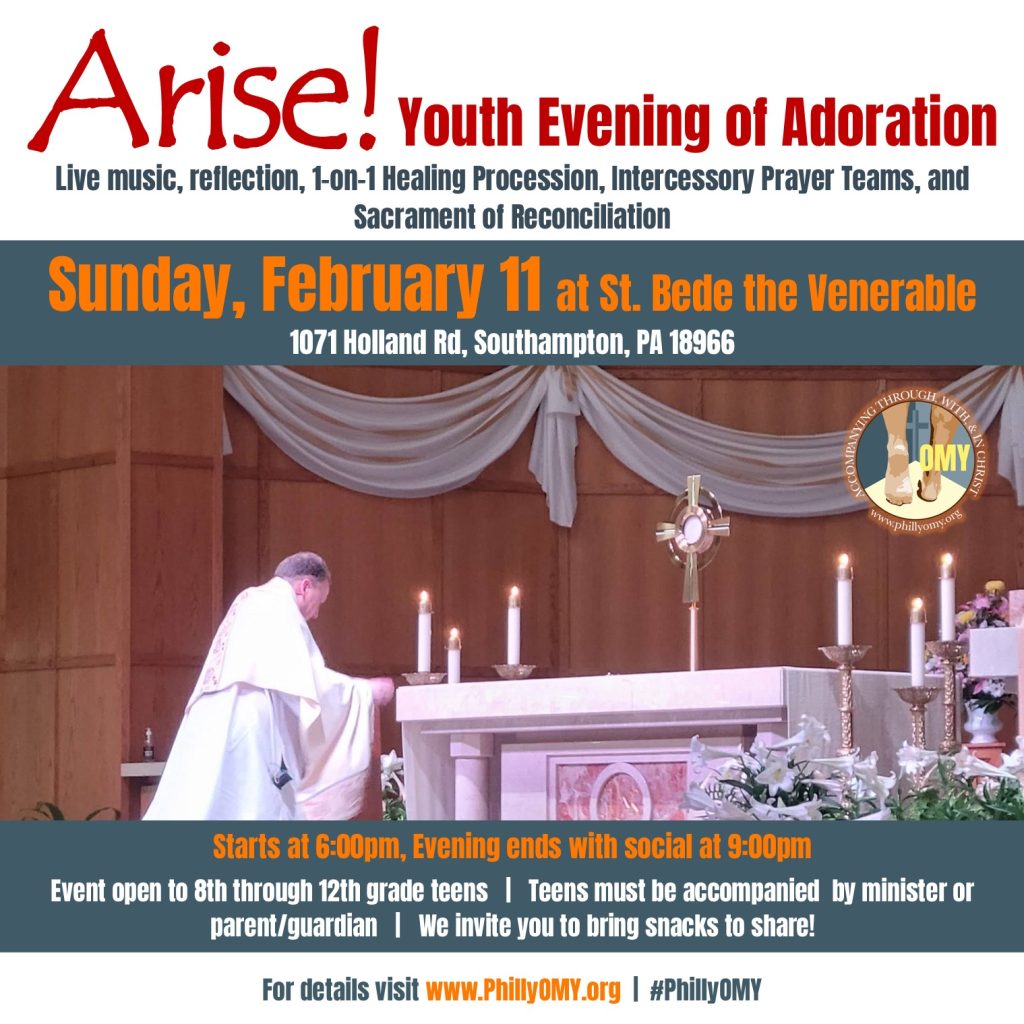 Bucks County
Sunday, April 21, 2024, at St. Jude Catholic Church at 321 W Butler Ave, Chalfont, PA 18914
*Led by the MY County Community of Bucks County
The evening program begins at 6:00 pm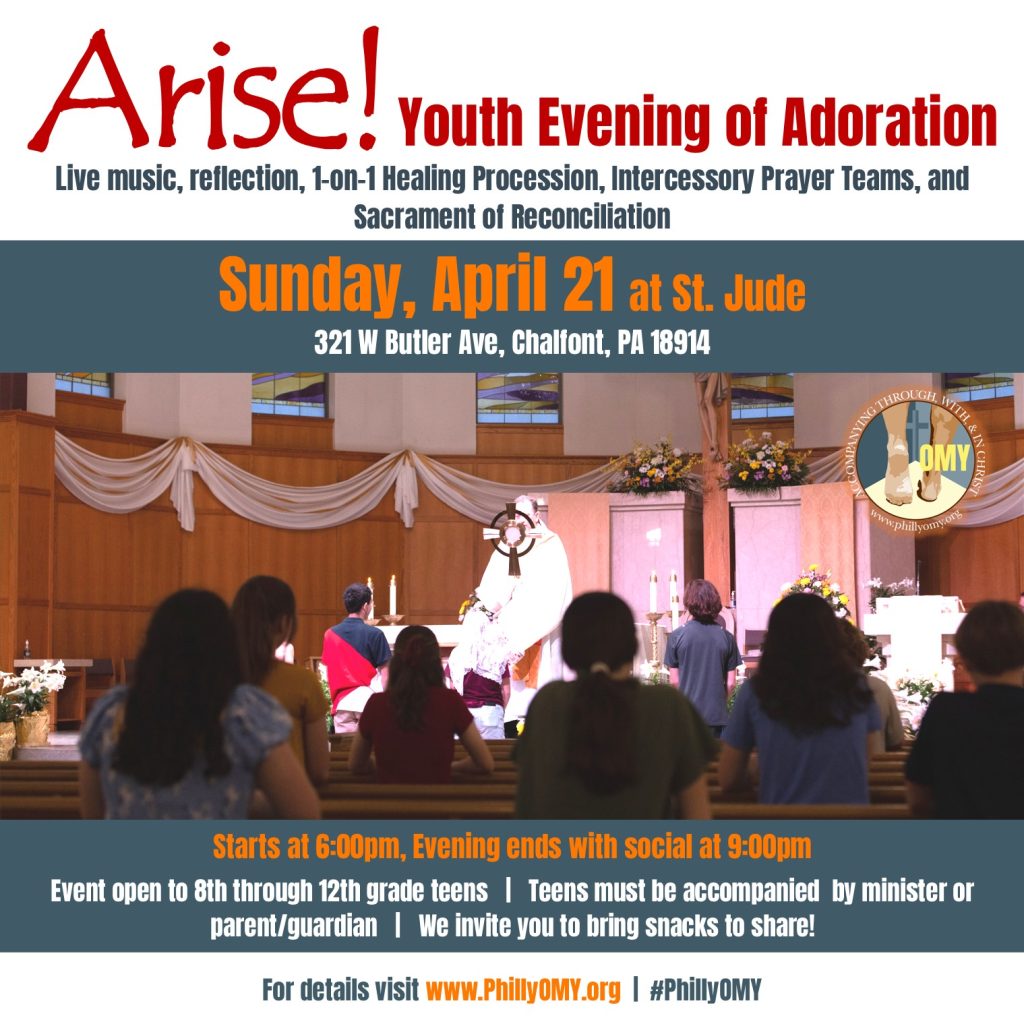 Montgomery County
Sunday, April 21, 2023, at Our Mother of
Consolation at 9 E Chestnut Hill Ave, Philadelphia, PA 19118
*Led by the MY County Community of Montgomery County
An evening program, Time TBD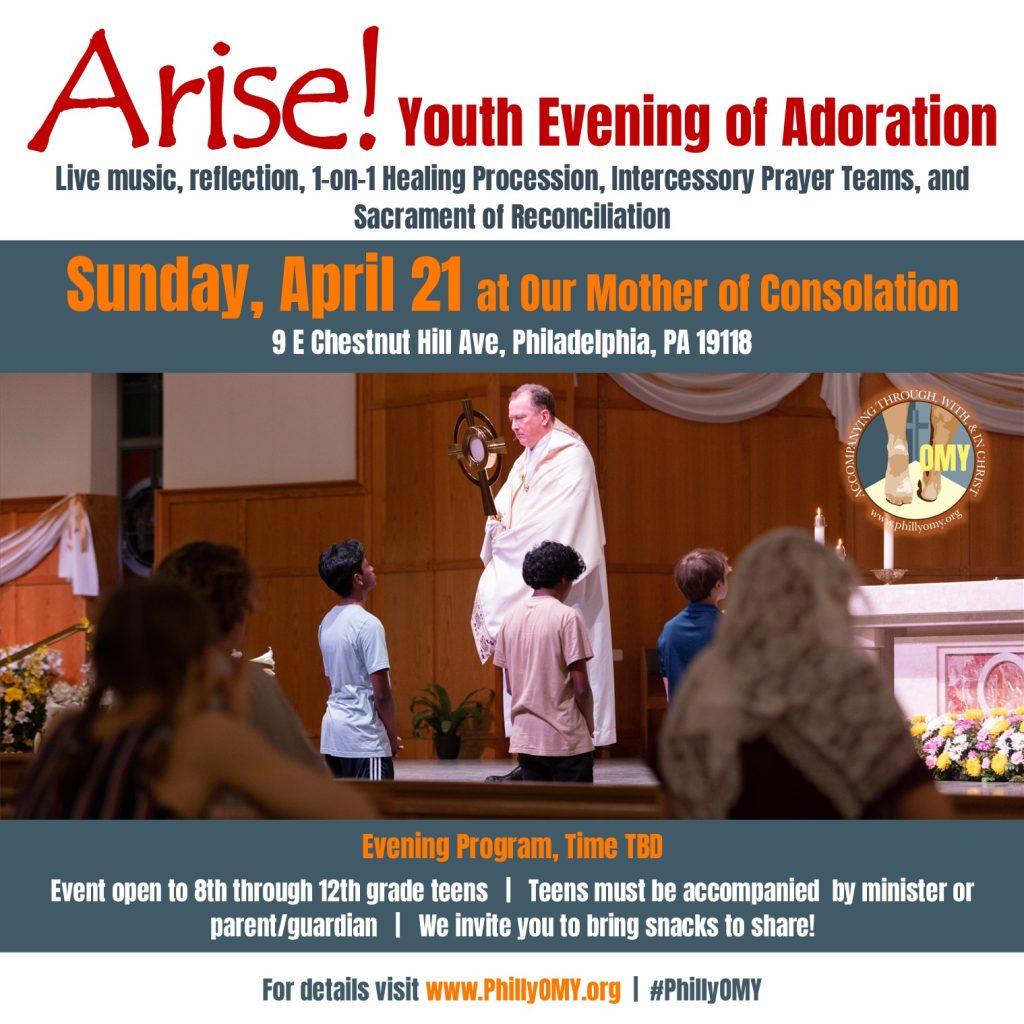 Arise! Youth Evening of Adoration is open to teens in 8th through 12th grade.

The group must be accompanied by an adult ministry leader or another adult.

Note: Parents/Guardians may accompany their youth. They will be directed to the parent/guardian section.

*We invite all who come to bring snacks to share for the end-of-evening social!
*Registrations are not required.